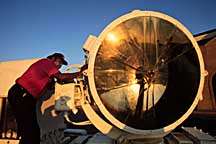 John EISELE
Photography
3361 Gunnison Dr.
Fort Collins, CO 80526
Phone: (970) 229-9264
Fax/Data: (970) 229-9265
Sky Pager: (800) 405-7008
Email:

[email protected]




I came to Colorado in 1997 after 14 years in Washington, D.C., the last nine of them on the staff of National Journal magazine. At National Journal, my subjects included Members of Congress and their staffs, the Cabinet and Sub-Cabinet, and Washington representatives of major trade associations. I also covered hearings and press conferences. My capabilities include formats from 35mm to 4x5, studio lights, and a Macintosh and scanner for digital delivery.