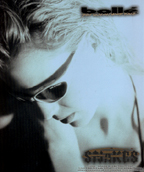 Larry George
Larry GeorgePhotography
1545 Julian St.
Denver, CO 80204
Phone: 303-629-0465
Fax: 303-629-8206
Web: www.larrygeorge.com
E-Mail:[email protected]



For nearly two decades, Larry's career as a premier national photographer has included projects in the studio and on location for a global clientele. His photographic art has been published in over nineteen countries, and he has trekked around the world shooting in exotic locations, including Thailand, India, and the Middle East.
Recent clients include: Coca-Cola, Coors, Corporate Express, Bolle, and A&M Records. For more information, please visit www.larrygeorge.com.