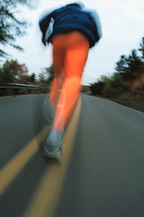 David LISSY
14472 Applewood Ridge Rd.
Golden, Colorado 80401
Toll Free: (877) 347-2462
Phone: (303) 277-0232
Fax: (303) 277-1508
Email:

[email protected]


Web: www.davidlissy.com


David photographs people on location. In his photographs he communicates a story through color, light, action, motion or expressions of his subjects. David photographs real people in real settings in order to capture their natural energy and spirit.

David's work has been used in advertisements, corporate annual reports, national magazines,and books. Some of his clients include Diet Rite Cola, First For Women Magazine, Up With People, U.S. News & World Report Magazine, Gatorade, the U.S. Postal Service, Sports Illustrated, and United Airlines.