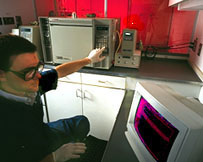 Michael J. PASSANANTE
9788 Garrison Lane
Denver, Colorado 80021
Phone: (303) 431-8020
Out of State: 1-888-431-8020
Email:

[email protected]




I've been in business for numerous years now, photographing for corporations that demand the finest photography for their marketing projects. Being a member of ASMP, you are guaranteed the highest professional standards that you expect. I enjoy shooting assignments that are challenging and visually rewarding . To see some additional work, or for a friendly quote on your next assignment please call or email me.