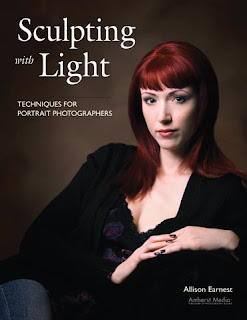 Sculpting with Light

TECHNIQUES FOR PORTRAIT PHOTOGRAPHERS

LEARN HOW TO DESIGN THE LIGHTING EFFECT THAT WILL MOST FLATTER YOUR SUBJECT
Though many factors contribute to a great image—lens choice, pose, props, etc.—every portrait subject requires well-executed lighting to enhance their appearance. This careful use of lighting to sculpt the subject in a flattering way is what distinguishes true artists from mere picture takers. In this new book, Allison Earnest shows you how to use flash,strobe, ambient light, window light, and a variety of light modifiers to create professional results. The author even shows you how to use lighting to flatter the facial shape of your client—whether they tend to have a more round, oval, rectangular, long and angular, square, or triangular face. With these techniques, you'll be able to accentuate the most appealing features of each subject and minimize an array of common problems. With tips for working with individuals and groups, indoors and out, this book is not to be missed.

FEATURES
Understanding the qualities of light,methods for controlling light, and how to measure it
Tools for lighting design, including flash, strobe,continuous light sources, and light modifiers
Portrait lighting basics, including placement of themain, fill, kicker, hair, and background lights
Understanding common face shapes and how theyshould be lit for best effect
Lighting techniques for photographing multiplesubjects, and tips for solving common problems
Sculpting subjects with ambient light
ABOUT THE AUTHOR
Allison Earnest is an acclaimed photographer and photography instructor who began her career as a photographer for NASA. Today, she operates a highly successful portrait photography studio and has become renowned for her mastery of lighting.
BOOK SPECS
$34.95 list, 8 1/2"x11", 128p, 175 full-color photos,ISBN 978-1-58428-236-5, Order no. 1867.
FOR FURTHER INFORMATION OR TO RECEIVE A REVIEW COPY, CONTACT:
Kate Neaverth or Craig Alesse, Amherst Media®, 175 Rano Street, Suite 200, Buffalo, NY 14207(800)622-3278 • fax (800)622-3298 •
[email protected]
• www.amherstmedia.com