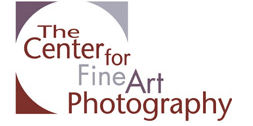 Calls for entry for the
Portfolio Showcase
are due on December 29, 2009.
Fifteen photographers will be chosen to display their
twelve-image portfolio in The Center for Fine Art Photography's Portfolio ShowCase Volume 4: Book and Online Exhibition. The show will be featured on the
Center's web site
on March 1, 2010 and will remain online for the next two years.
Theme: Open - There is no theme for this exhibition.
The images will be evaluated as a cohesive body of work, rather than individual images.
The Center for Fine Art Photography
invites photographers working in all mediums, styles and schools of thought to participate in this exhibition. Traditional, contemporary, avant-garde, creative and experimental works that include old and new processes, mixed techniques, and challenging personal, emotional or political statements are welcome. The exhibition is open world wide to all professional and amateur photographers working with digital or traditional photography or combinations of both.